All you need to manage your IT is in Cockpit
---
Ticketing System
An ITIL-designed solution for your IT department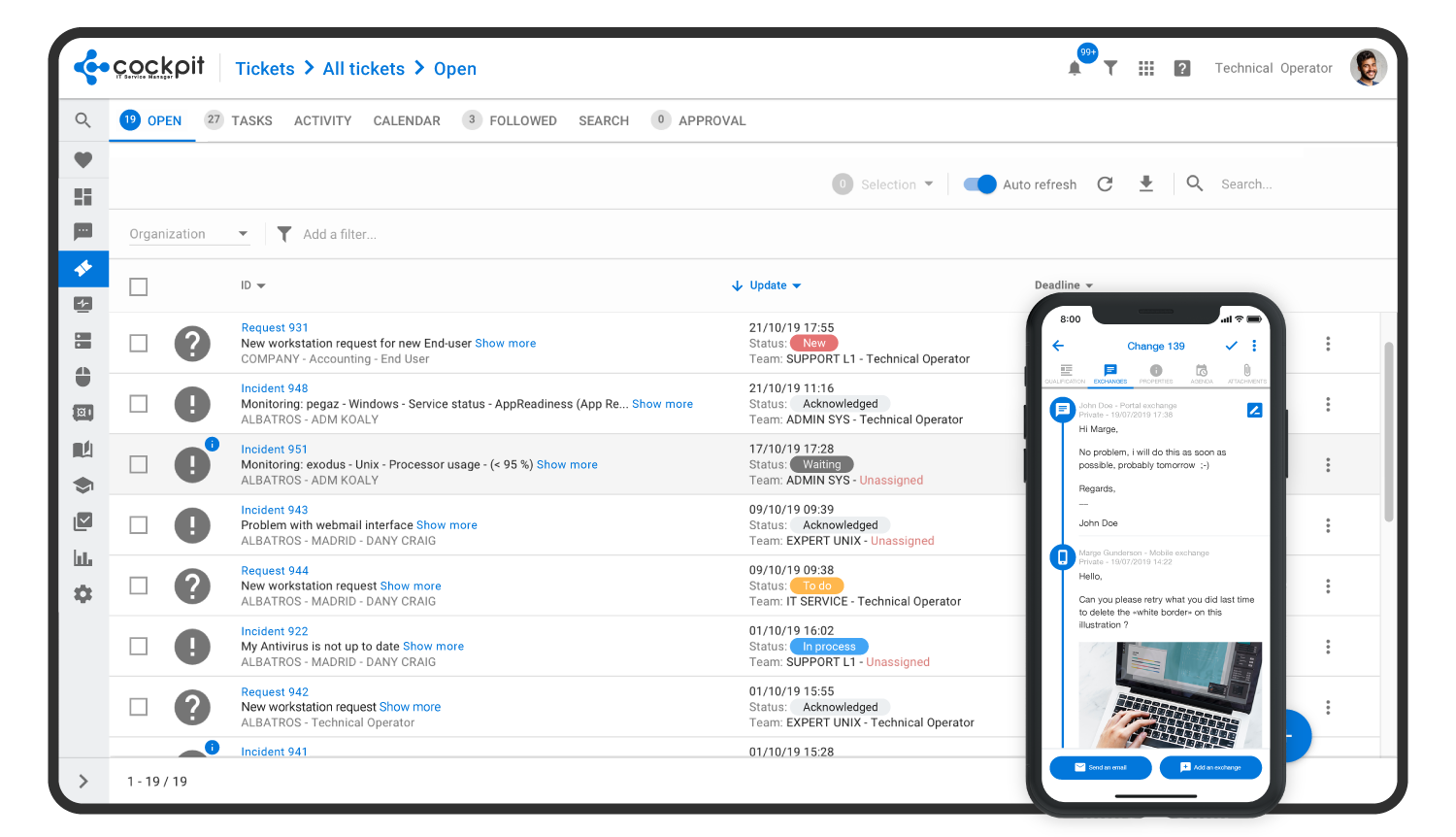 Incident management
Log, prioritize, and solve the issues that affect your end-users and business services. Minimize resolution time and automate Incident tracking with the Cockpit IT Service Management monitoring module integration.
Problem management
Isolate Problems, link them to Incidents and diagnose a root cause. Analyse the problem and declare its symptoms, impact and root cause. Easily create a procedure with workarounds and solutions to the Problem.
Request management
Simplify and automate Requests with dynamic Request forms. Design the Request management process and create your own approval workflows. Offer multiple services through the user-friendly service catalog.
Change management
Measure the risk and the impact of each Change. Request approval from the Change Advisory Board (CAB). Link your Changes with the other modules (CMDB, Incidents, Problems, Releases, etc.)
Release management
Plan, manage and execute each stage of your Release process. Feed your Changelog from the Changes associated with the Release. Share the Changelog with your end-users.
Changelog publication
Generate and publish your changelog based on the Change and Release content. Group changes in the changelog by features and bugfixes. Organize your changelog by dates and Release versions.
Project management
Plan your IT projects from the beginning up until delivery in your ITSM portal. Gather tickets and tasks in a single project. Organize and prioritize tickets and tasks with Kanban boards. Gain complete visibility with the Gantt planning view.
SLA / OLA management
Set SLA policies based on business hours, acknowledgement deadlines or completion deadlines. Link SLA policies with templates, priorities or assets in CMDB. Manage escalation rules to notify users about SLA violations.
Approval process
Create approval groups (managers, end-users, technicians, etc.) and define multilevel approval processes. Request for approval for Changes or Requests and notify the Change Advisory Board. Empower users to approve or reject tickets from the portal or the mobile app.
Workflow automation
Use a simple drag-and-drop interface to create rules with multiple conditions and actions. Automate multilevel approval processes for Requests and Changes. Auto-assign tickets to a certain operator or team and automate complex processes.
Synchronization service
Integrate other ticketing solutions (ServiceNow, Jira, etc.). Define processes to synchronize (Incident, Change, Request) and set elements to map (statuses, priorities). The synchronization service will automatically synchronize tickets (description, exchanges, attachments, etc.).
Email to ticket
Integrate one or several mailboxes with Cockpit IT Service Management. Automatize ticket creation based on email content and attachments. Allow users to simply add information to a ticket by replying to an email notification.
---
Service Desk
Bridge the gap between the IT service and the end-users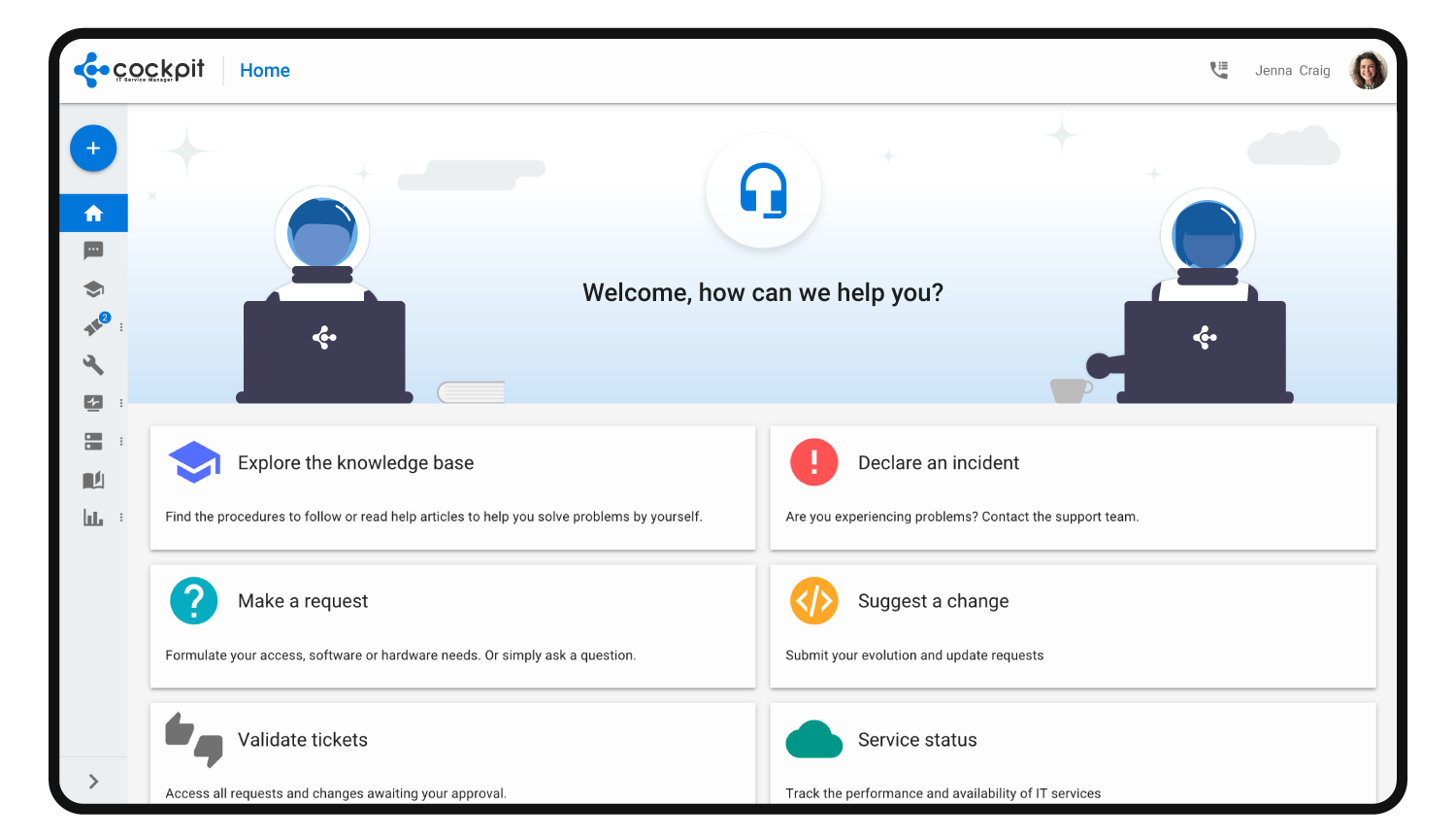 Self-service portal
The portal is the single point of contact for your end-users. It offers a simple way to collect information, look up a solution in the knowledge base, request a service from the Catalog, or reach the IT support. The portal can be customized and adapted to your end-user profile.
Ticket declaration
Let your end-users help themselves by declaring Incidents and submitting Requests directly from the support portal. Guide them to qualify their issues and needs with predefined templates. Allow them to easily track ticket progress.
Service Catalog
Offer a great user experience with a smart Catalog similar to online shopping catalogs. Let your end-users identify and ask for any service they are looking for. Simplify and automate the Request fulfilment process with templates.
Knowledge base
Your Knowledge Base empowers end-users with tips and how-to solutions. Sharing the knowledge with relevant end-users eliminates the need to declare an Incident or submit a question and saves technicians time and energy.
Service status
Easily communicate real-time status of your services to your end-users. The service status integrates with the monitoring module and offers a simplified view for the end-users. Seeing is believing, so show your end-users that you run a service with historically reliable uptime.
Report publication
Schedule and share automatic reports based on data from all Cockpit IT Service Manager modules. Several templates are available: Daily operational reports (system status, batch execution status, backup status, etc.) as well as monthly consolidated reports (Incident statistics, end-user satisfaction data, etc.).
---
Asset Management
A full overview of your IT landscape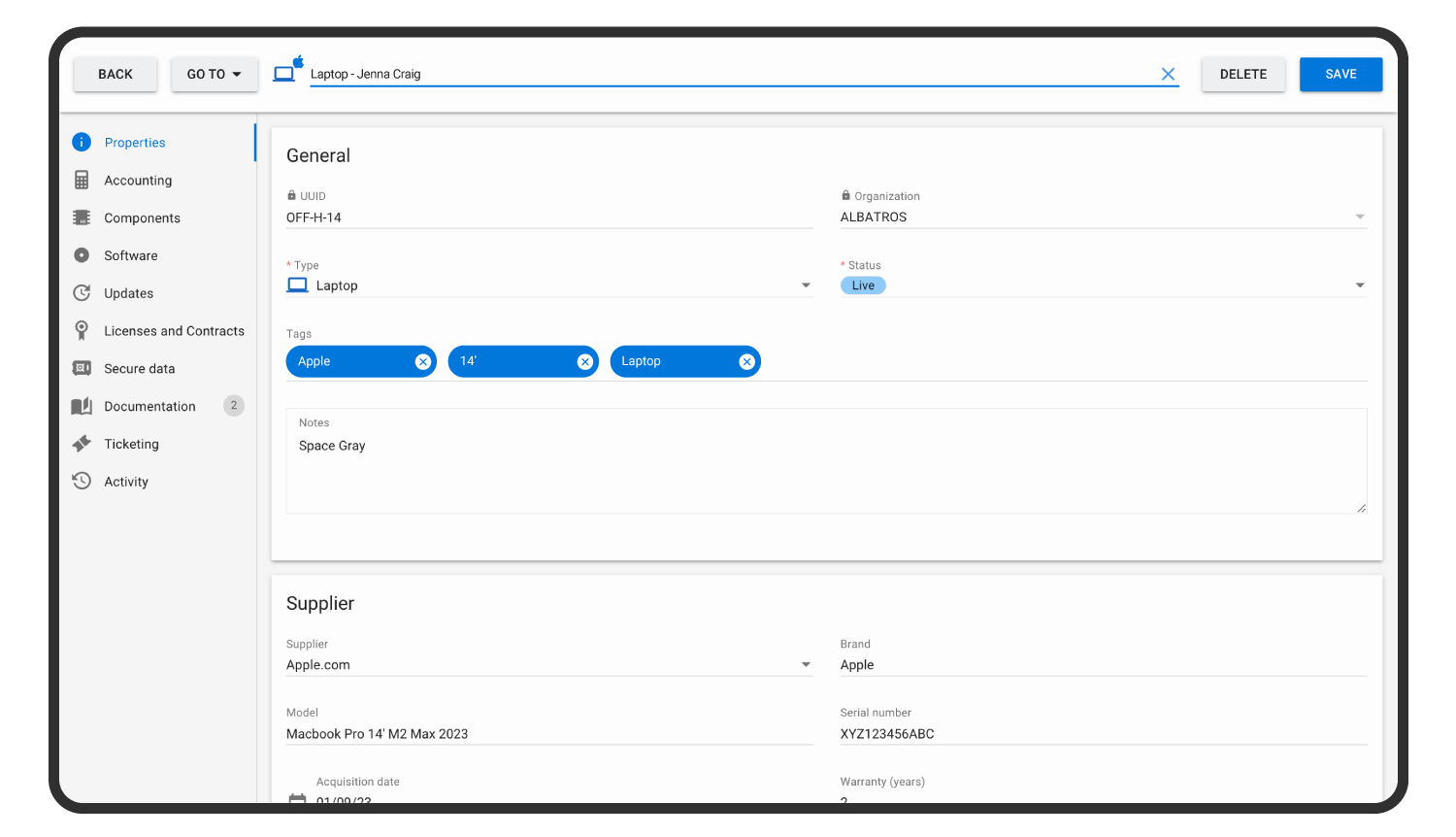 CMDB - Infrastructure
Maintain a complete repository of all the assets in your infrastructure. Minimize potential risk, identify critical assets, and analyze the impact of Incidents, Problems and Changes. Track unmonitored assets using the link with the monitoring module.
CMDB - Office
Track and manage your end-user hardware and software assets in one place. Optimize asset usage, track prohibited software, and ensure license compliance. Map each asset with an end-user. Mark all your assets with QR code labels and scan them from the mobile app.
Automated inventory
Automatically keep up-to-date information of all assets. Server component inventory is agent-less, the monitoring engine remotely collects the information. An agent is deployed to collect the information on workstations and laptops, wherever they are located.
Software management
Get a single list view of each software, including details like the number of installations, licenses and manufacturer support. Classify software as managed, prohibited, etc. and categorize them for efficient tracking and management.
License management
Allocate license mode such as unlimited, by user or by installation to all managed software. Reduce license management risks and stay compliant by tracking license expiry dates. Set up notifications to be notified in advance before a license expires.
Supplier management
Centralize information about suppliers (internal and external) and business partners. Describe each supplier's contracts and service agreements. Monitor compliance with these commitments using the ticket OLA functionality.
Contract management
Associate a contract with a specific supplier and several hardware or software assets. Fill in contract information such as the hotline phone, support hours, service level agreement, etc. Include soft copies of actual contracts as attachments for easy reference. Set up notifications to be notified in advance before a contract expires.
Data center plan
Design data centers with water pipe networks, leak detection, fire detection, fire extinction and air conditioning. Make locating a server in the data center and its rack easy - from the CMDB or a monitoring alert.
QR code scan
The Cockpit IT Service Manager mobile app for Android and iOS includes a QR code scanner to let you track assets on-the-go. Print a label with a QR code on each asset and allow the technicians to identify devices already added in the CMDB.
Accounting data
A significant part of the IT assets are fixed assets which require an amortization calculation. Fill in accounting information such as order and invoice references, invoice date, purchase amount, etc. The amortization calculation, based on cost and duration, will proceed automatically and the amortization data will be updated daily.
---
Monitoring
A sentinel to watch over your technology landscape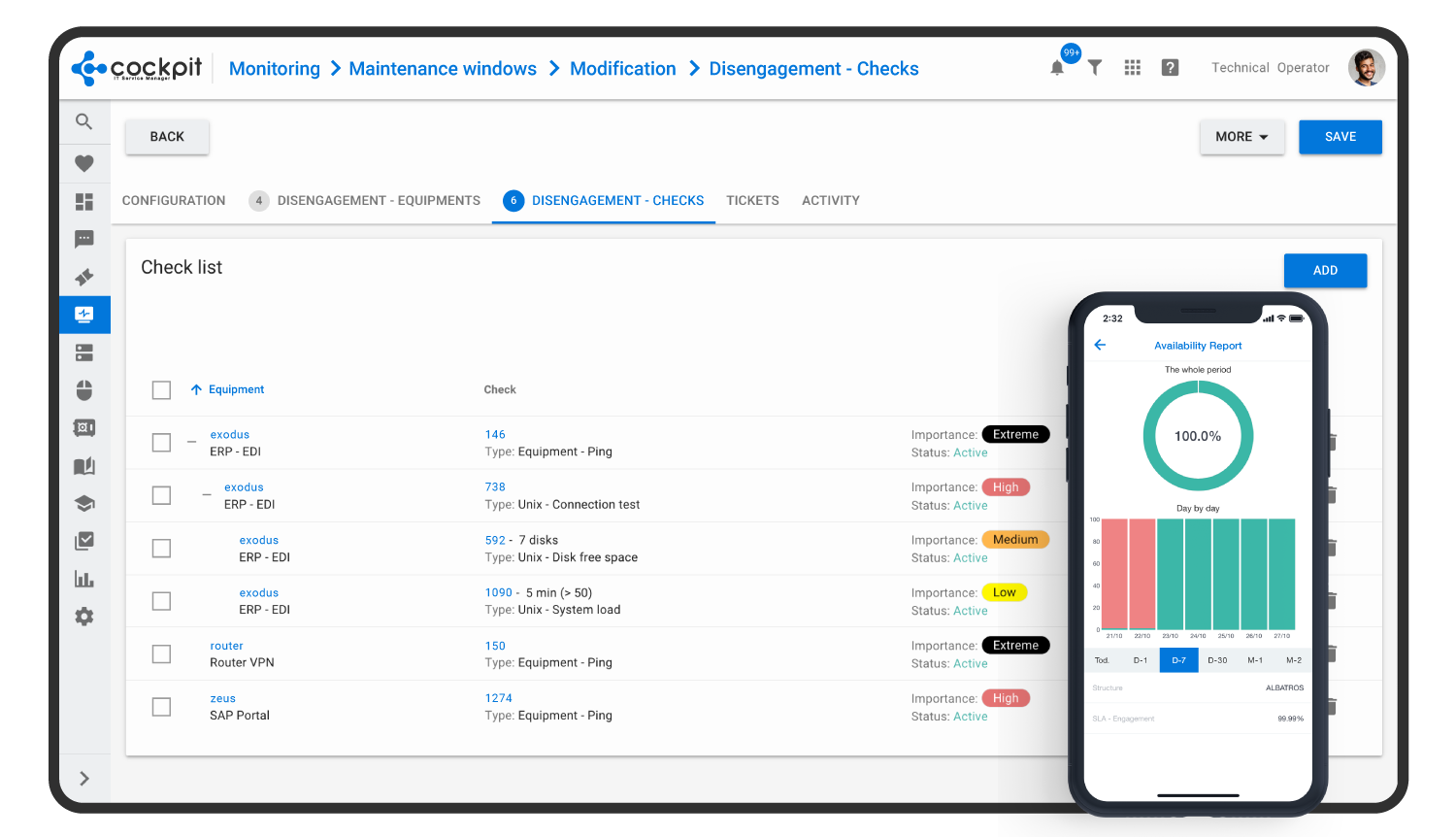 Hardware
Monitor any physical devices which support the SNMP protocol. SNMP polling checks use OIDs delivered by hardware producers such as Dell, IBM, Cisco, etc. to collect hardware information (temperature, fan status, disc status, etc.). The Cockpit ITSM Monitoring Engine can also receive SNMP trap messages sent by any SNMP-enabled devices.
Networks
Proactively monitor availability, traffic and performance of any network component with multi-level thresholds. Store 12 months of consolidated metrics to watch the evolution of traffic and performance. A simple SNMP access is necessary for monitoring and to collect system health and other critical metrics.
Systems
Monitor virtual and physical server components such as processor, memory, logical disks, traffic and much more. Store 12 months of consolidated metrics to watch the evolution of storage space and performance data. Our 200+ predefined checks are compatible with the most popular operating systems such as Windows, Linux, AIX, etc.
Databases
Use predefined checks to monitor various databases such as Oracle, MSSQL, Sybase, PostgreSQL, etc. Monitor database availability, performance and storage space management. Define your own SQL queries to get specific KPI. Store 12 months of consolidated metrics to watch the evolution of storage space and performance data.
SAP solutions
Monitor the performance of various components and resources in your SAP landscape (HANA, ECC, BI, etc.). Check the backups and the operating processes such as Jobs, Process Chains, Idocs, etc. Receive SAP-oriented daily reports and get the status of all your SAP services.
Cloud services
Gain unified visibility across all your IaaS, DBaaS and SaaS infrastructures. Ensure smooth cloud application monitoring by checking events. Cockpit IT Service Manager is capable of monitoring the most popular Cloud Services (AWS EC2, AWS RDS, MS Azure, Google Cloud Platform).
Web sites
Monitor health and availability of a single web page or an entire sequence of web pages. Use scenarios to simulate and analyze end-user experience and web page workflows. Track content and key words on your web sites. Measure web application performance.
Jobs
Monitor your top business-critical jobs and job chains. Not only detect failed executions but alos follow job execution from the scheduling to the completion and be notified if a scheduled job has not been executed as expected. Receive a daily report of critical jobs and job chain status.
Metrics
Perform complete capacity management for networks, servers, databases and applications with instant graphs on critical performance metrics. Collect, consolidate and keep the metrics up to 12 months to watch capacity evolution and trends with views by day, month and year.
Webhooks integration
Push alerts and messages from heterogeneous applications in a centralized monitoring dashboard. Use emails, SNMP Trap or simple Webhooks to integrate events from hardware items, backup solutions, custom scripts, etc.
Templates
Simplify and industrialize monitoring deployment with customizable templates. The templates help you to save time, to guarantee monitoring uniformity and to respect best practices and policies for monitoring.
Flexible scheduling
Execute checks every X minutes to monitor availability and performance, stop monitoring during recurring backups, follow a critical job every Tuesday at 4:40, check a backup status on the first Monday of the month, etc. All these schedules are available in Cockpit IT Service Manager.
Maintenance windows
Pause your monitoring checks and alerts when you need to take your applications down for maintenance. Just set the maintenance start and end dates, the impacted servers and applications, and the monitoring process will automatically pause during the time slot and restart afterwards.
Notifications
Be informed by email, SMS or via the mobile app in case of an alert. Create incidents in the ticket module automatically in case of an alert. Use templates to set notifications and to be alerted when values exceed thresholds, after a certain number of alerts, because of correlated alerts, etc.
Agent-less
Cockpit IT Service Management is an agent-less monitoring solution. There is no program or service to install on every server to be monitored. You just install ONE monitoring engine on ONE server to monitor all your devices and applications throughout your network.
---
Productivity Tools
A toolbox to strengthen service delivery capabilities of your IT team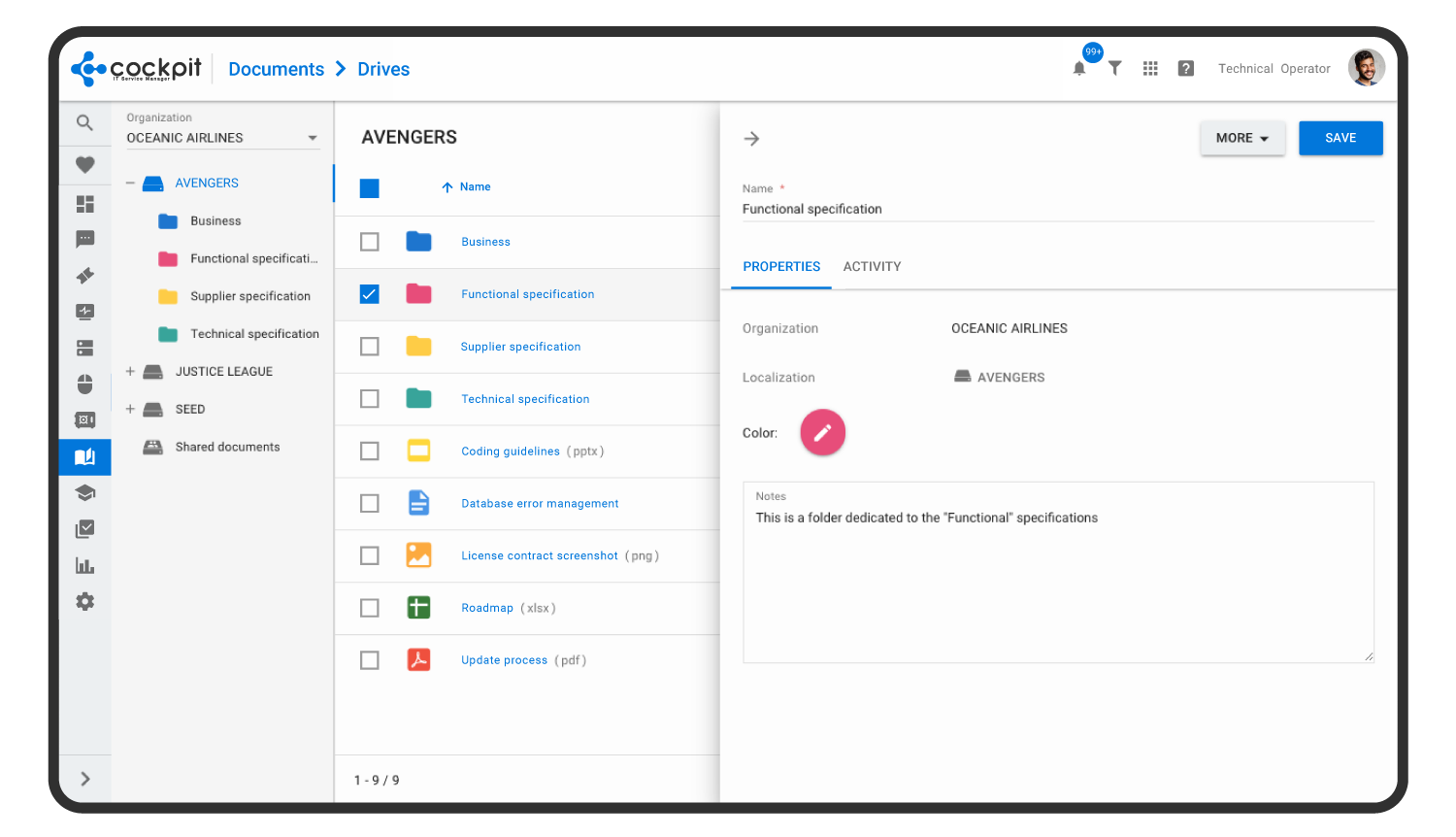 Digital vault
Manage all of your passwords and sensitive data in a centralized digital vault using 256-bit AES encryption. Link secure credentials with the servers and applications in your infrastructure. Allow your technicians to connect to servers and applications directly from the portal with Cockpit ITSM Desktop - no manual password entry required.
Document management
Store, track and organize your electronic documents in secure drives. Manage file versioning, restoration and change. Track activity and audit access levels by drive and document. Collaborate and securely share content.
Knowledge base
Build a user-friendly intuitive knowledge base with solutions and information that can be used by both technicians and end-users. Reduce tickets with smart suggested solutions to issues even before the end-user raises a ticket.
Task scheduling
Never forget your hourly, daily, weekly, monthly or yearly tasks. Schedule all your recurring tasks and wait for your tasks to be pushed in a pending list accordingly. Ensure the pending tasks are carried out by your teams. Get reports, analyze recurring workload and track any peaks in activity.
Time tracking
Empower the technicians to track and fill the time spent on tickets, projects and recurring tasks. They can use the built-in timer to enter time automatically. Get reports and analyze workload by ticket, project and recurring tasks.
Logbook
IT service management involves managing information, news and special instructions such as the planned shutdown of an application, suspension of a process, etc. Store and share this information between technicians in a single centralized logbook.
---
Analytics
A data visualization and consolidation app, all in one place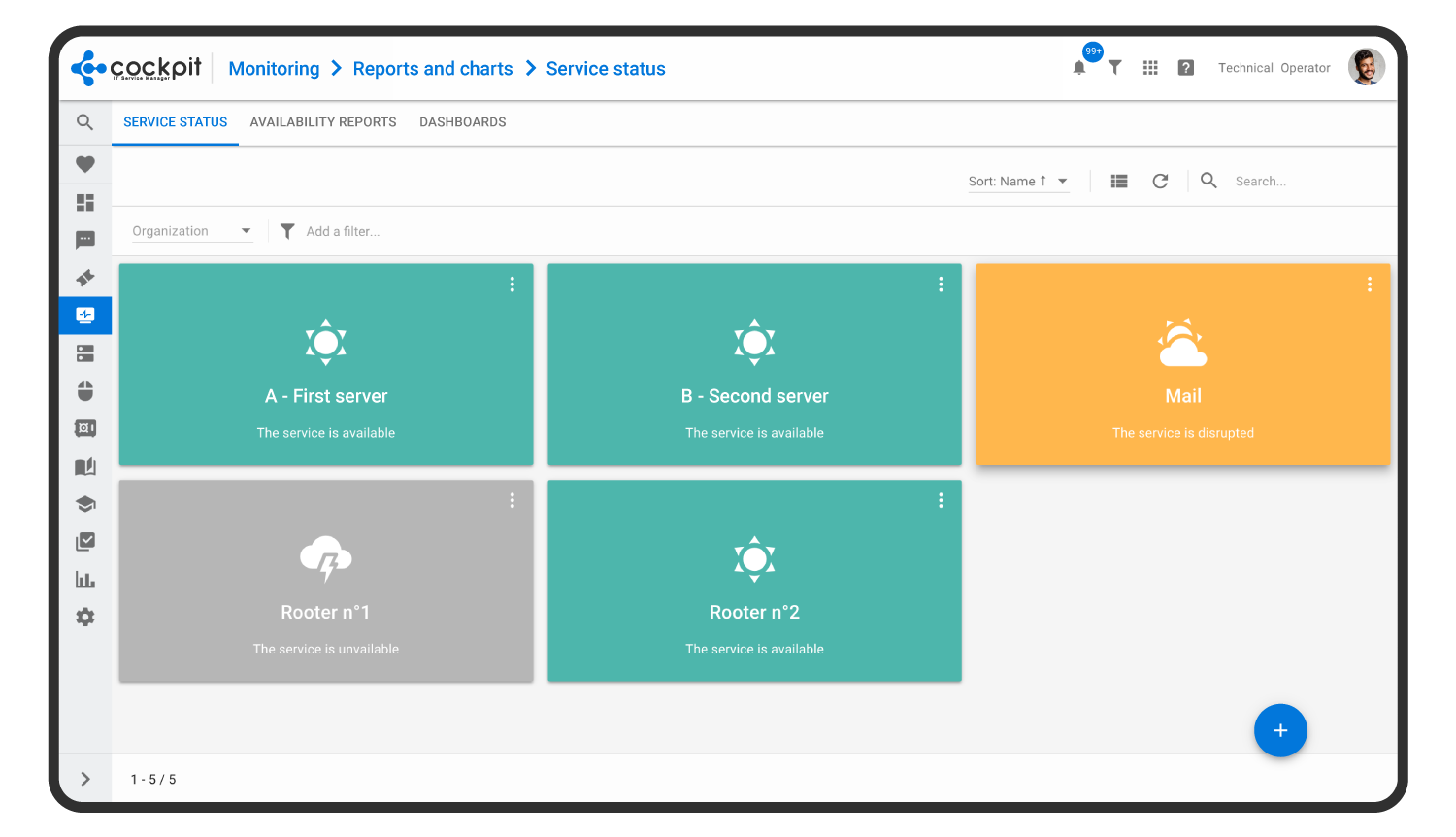 Consolidated reports
Design daily, weekly or monthly report templates. The reports are automatically generated from these templates. The reports are based on consolidated data produced by various portal modules (tickets, tasks, monitoring, etc.).
Satisfaction survey
Customer satisfaction surveys allow you to track how well your operators and IT department as a whole are performing on a ticket-by-ticket basis. Because of a simplified approach, end-users can easily give a feedback about their user experience and the response rate is very high.
Service status
Easily communicate the real-time status of your services to your end-users The service status integrates with the monitoring module and offers a simplified view for the end-users. Seeing is believing, so show your end-users that you run a service with historically reliable uptime.
Availability reports
Our availability reports offer an exhaustive view of equipment or service availability for any chosen period of time. The reports are based on the monitoring module. Service opening hours and SLA agreements can be defined for each report.
Metrics
Perform complete capacity management for networks, servers, databases and applications with instant graphs on critical performance metrics. Collect, consolidate and keep the metrics up to 12 months to watch capacity evolution and trends with views by day, month and year.
SAP-oriented reports
Automatize daily SAP checks and get a daily overview of your SAP landscape. The SAP-oriented reports offer a global dashboard (availability, response time, etc.) and detailed SAP instance views (jobs, short dumps, backup status, etc.). The reports are automatically generated from SAP-oriented templates.